The Google Ad platform has a lot to offer—it's not just Search and Display campaigns anymore. YouTube ads have been around for a long time now, and Google has a few more products to offer.
Gmail Ads became available on Adwords as a Display placement in September 2015, but only with the introduction of the new interface did it became possible to create Gmail specific campaigns and use Google's templates to create Gmail ads.
Gmail ads appear at the top of Gmail users' inboxes under "Promotions" and are marked with an "Ad" sign next to them. They have a square logo next to them on mobile devices:

Expanded Gmail ads include information about the advertiser (e.g. headline, description, image, video, call to action, etc.):

Actions Available for Users on Gmail Ads
1. Forward –
Forward the Gmail ad to your contacts.
2. Save to Inbox – Save the ad to your inbox for later reference.
3. Click to Website – Located under the call to action button with a separate link to the advertiser's website on the right.
Best Practices for Creating Successful Gmail Ads
Collapsed Ads
Front-end your most important call-to-actions and promotions.
On average, only the first 40-45 characters of your job description will appear on mobile Gmail ads.
Add a description with the most important information upfront.
Highlight job titles, locations, events, sign-on bonuses, etc.
Include a strong subject line; tap into past email marketing campaigns.
Expanded Ads
Use Gmail Ad templates, which are mobile-optimized and often perform better than custom HTML templates due to compatibility with most platforms and devices.
Design your expanded ad similar to a landing page.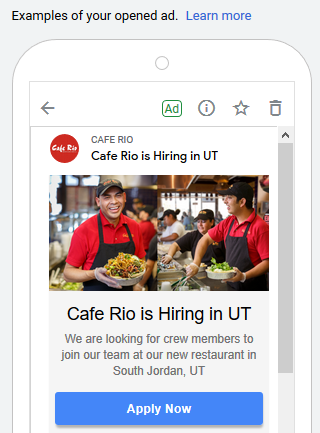 Gmail Ad Performance Benchmarks
Gmail ads run on a CPC basis.
Average CPC could vary from $0.15 to $0.25 based on the targeting, location, and competition.*
Average click-through-rate is between 15% and 25%.*
*Google Ads benchmarks for Gmail campaigns and Recruitics' campaign data.
Targeting Options
[Note: The below information is based on the Google help center article and repurposed for talent acquisition]
Targeting Options are similar to Display campaigns:
Affinity Audiences: Select from these audiences to reach potential candidates and make them aware of your company.
Audience Keywords: Enter words or phrases related to your open positions, so that your ads may appear to candidates interested in those careers. We don't recommend entering website URLs.
Automated Targeting: Helps optimize your targeting across Gmail, letting you reach job seekers your targeting wouldn't otherwise reach, at around the same cost per person—automatically.
Customer Match: Show ads to job seekers based on data about those candidates that you share with Google. Learn more.
Demographics: Reach candidates on the Display Network who are associated with certain demographic categories, such as gender, age range, or household income.
In-Market Audiences: Select from these audiences to find active candidates, which means they're searching for a job and are actively considering open positions like yours.
Life Events: Reach candidates in key life moments like college graduation, career changes, and relocation.
Remarketing: You can also reach people who've already engaged with your talent network, including past visitors to your careers site, career pages, or videos, or your own lists. Remarketing lists targeting Gmail ads must have a minimum of 1,000 active visitors or users within the last 30 days for your ads to show.
Conclusion
More and more companies choose to supplement their talent acquisition efforts with Gmail campaigns, and they're seeing great results—click-through rate from 25% to 75% and an increase in clicks to apply by 50%. Gmail ads have proven themselves to be a great asset for healthcare and hospitality verticals.
Update
In December of 2020, there was an addition to the Google ads support page on Gmail Ads. Google announced that dedicated Gmail campaigns will be converted to "read only" on July 1, 2021. Starting on that date, advertisers will not be able to create any more dedicated Gmail campaigns. Also, advertisers will not be able to edit any of their current Gmail campaigns.
Check Out Our Marketplace for Recruitment Marketing Solutions
Find the right tools for your talent acquisition needs — over 300 solutions to optimize each stage of your hiring process.